Hello guys! Rita here. So whenever a friend or acquaintance asks us for advice on how to start making healthier (vegan) choices in their lives, the best we can do is share the conclusions we've drawn from our own journey. And for us, it all started with breakfast smoothies. Before this, our breakfast routines were absolutely appalling. Since then, we've come to realize that there are dozens of reasons why a smoothie is the perfect way of getting started on a holistic, plant based nutrition.
First of all, it's no rocket science. They're quick and easy to make, you just have to combine whatever fruits, vegetables and superfoods you'd like with the base of your smoothie (that's usually bananas and plantbased milk or coconut water for us), chuck it all in your blender and that's breakfast right there. Smoothies are really dense in nutrients and reinforce your immune system, since all of the ingredients are eaten raw and fresh. They detox your system and help solve your digestive issues, which will ultimately allow you to even sleep better at night. They supply your body with the right kind of energy and make your skin, hair and nails look and feel much healthier. These are all benefits we can give a pledge for. Last but not least, and probably the number one reason why we got hooked on smoothies in the first place: they make for a truly impressive and inspiring meal. You can get creative and come up with some yummy flavour combinations.
About this beautiful bright pink smoothie! If you haven't had the pleasure of tasting the combo of beetroot and raspberry, this smoothie is the perfect way to do so. Don't be intimidated by the idea of adding whole, raw beetroot to your morning drink, it is as delicious as it is beneficial. We've added a couple of medjoul dates for extra energy and sweetness and a few teaspoons of flaxseeds for some more dietary fibre.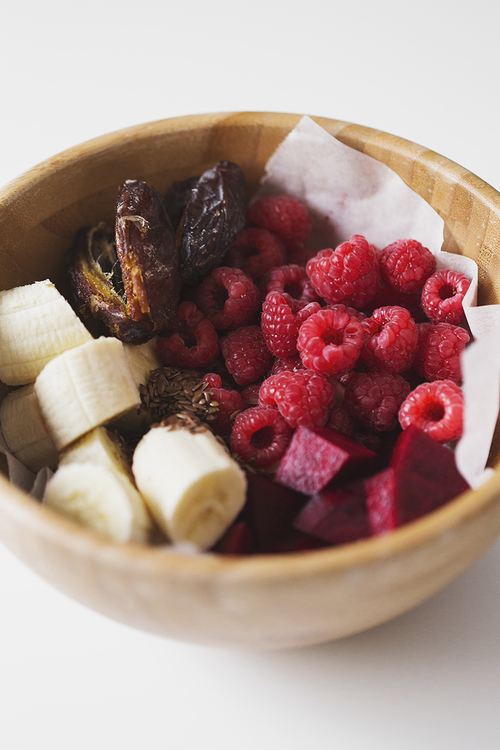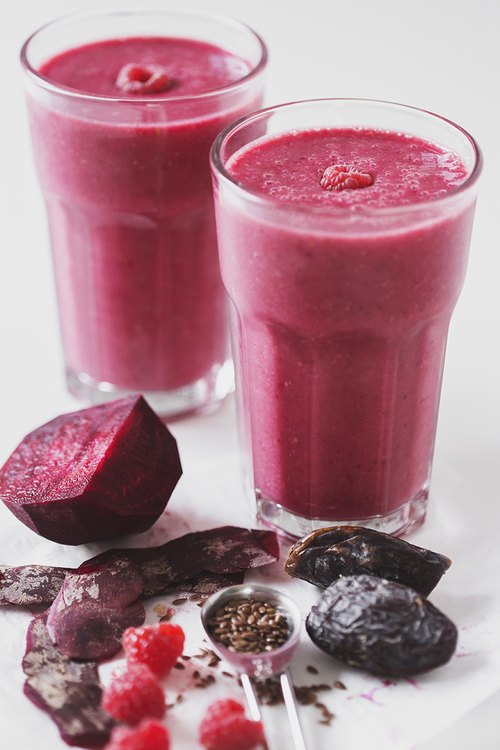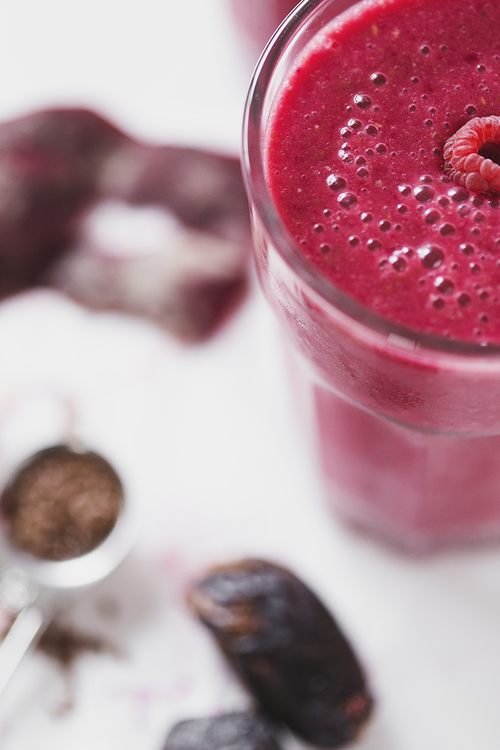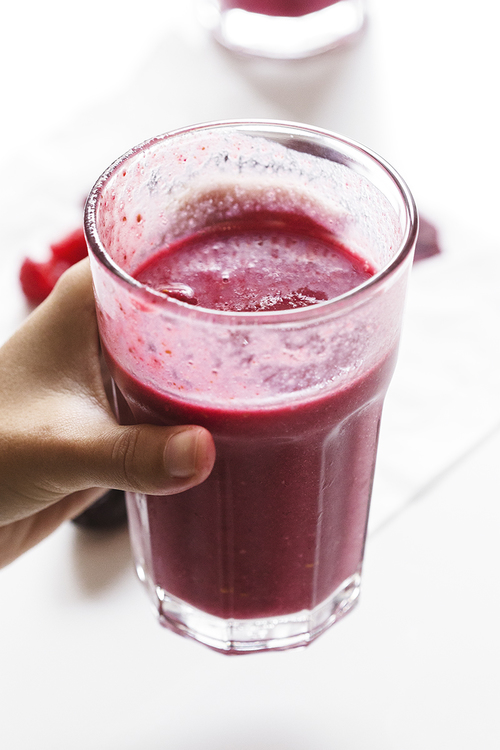 ---
BEET RASPBERRY SMOOTHIE
5 minutes | serves 2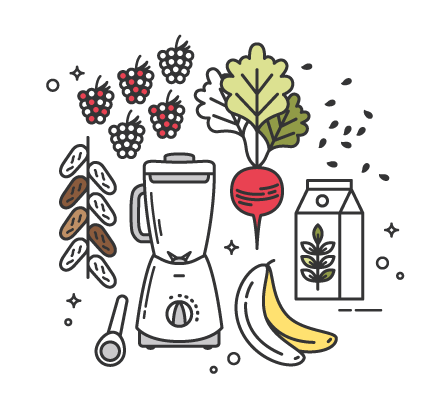 INGREDIENTS
2 ripe bananas
1 cup | 120 gr. raspberries
100 gr. raw peeled beetroot
2 cups | 500 ml. almond milk (or any plantbased milk)
2 medjoul dates, pitted
2 tsp flax seeds

STEP BY STEP
Start by gathering, preparing and measuring all of the ingredients. This will improve your dynamic in the kitchen.
Add all of the ingredients to your blender and blend for a minute or two (depending on how powerful your blender is!) until the smoothie is nice and creamy.
Serve and drink straight away.
FacebookTwitterE-mailPinterestMais…20.6K
---
WE HOPE YOU ENJOY!
We're new at this recipe-writing deal. Let us know what you think we could improve in the comment section! xo