Creamy cucumber tomato salad is the perfect side dish for outdoor entertaining. This refreshing salad only takes 5 minutes to make!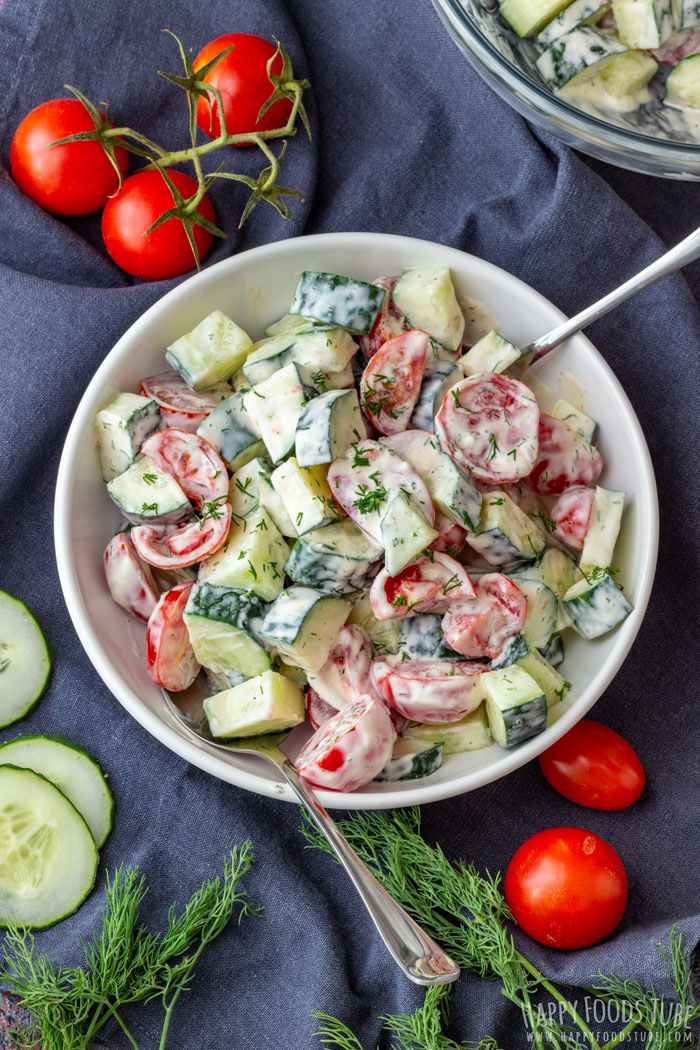 We make this salad a lot in summer not only for its quick and easy prep but also because all the ingredients are in season.
FEATURED RECIPE VIDEO OF THE WEEK
Honey Lemon Grilled ChickenPlay Video
It goes so well with grilled pork, chicken (Grilled Turkey Kabobs, Yogurt Marinated Grilled Chicken or Honey Lemon Grilled Chicken) or steaks.

By the way, this article on how to grill the perfect steak is pretty helpful so if you need some advice how to achieve the right doneness or how to master your steak grilling skills you might wanna check it out.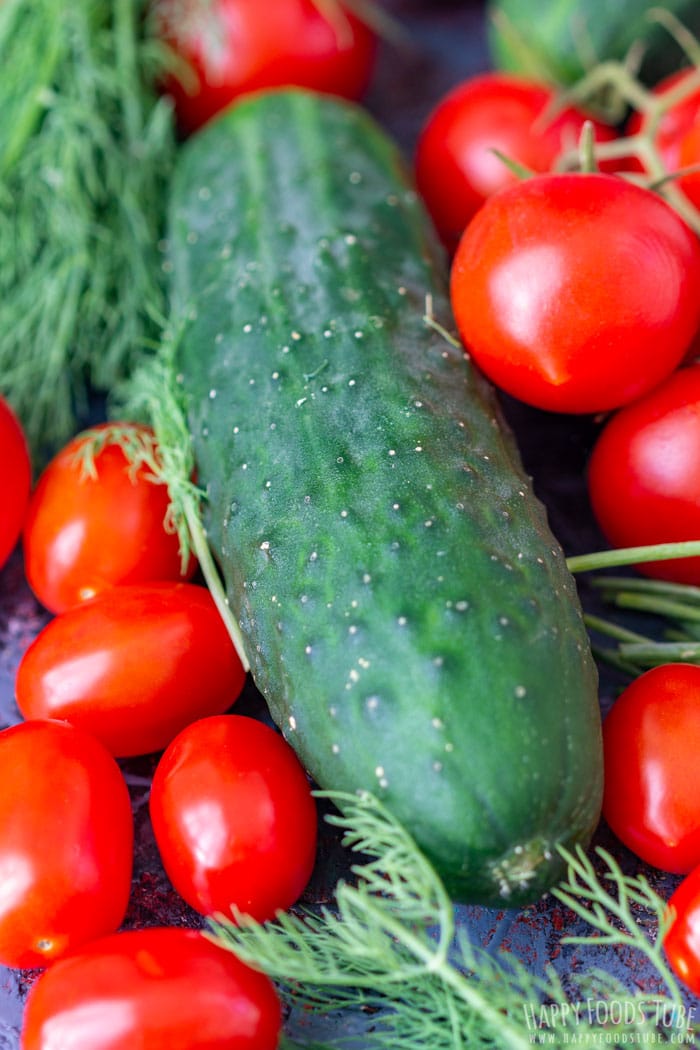 Ingredients needed to make creamy cucumber tomato salad:
Cucumbers
Tomatoes
Fresh dill
Sour cream
Lemon juice
Seasoning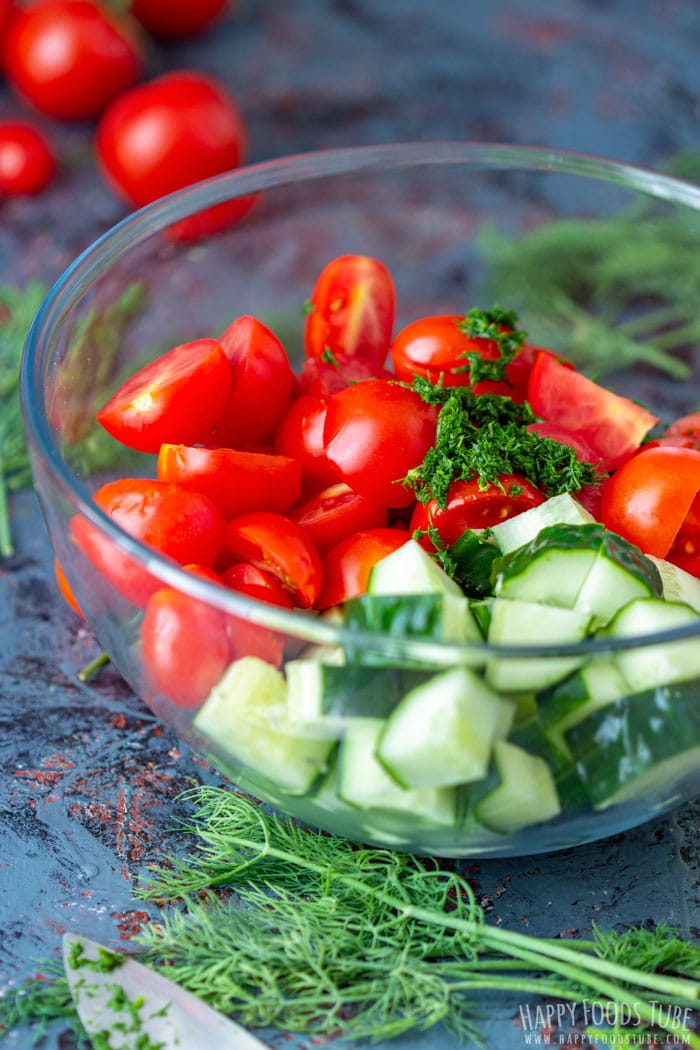 HOW TO MAKE CREAMY CUCUMBER TOMATO SALAD
Get a large mixing (or serving) bowl. Then all you have to do is cut the tomatoes, cucumber and finely chop fresh dill. All these 3 ingredients go in the bowl altogether with the sour cream dressing. The dressing is simply sour cream mixed with lemon juice, salt and pepper.
All you have to do at this stage is give everything a good stir until all the veggies are well coated with the dressing.
Make sure to give it a taste before serving to see if it is seasoned to your liking. If not, add some more.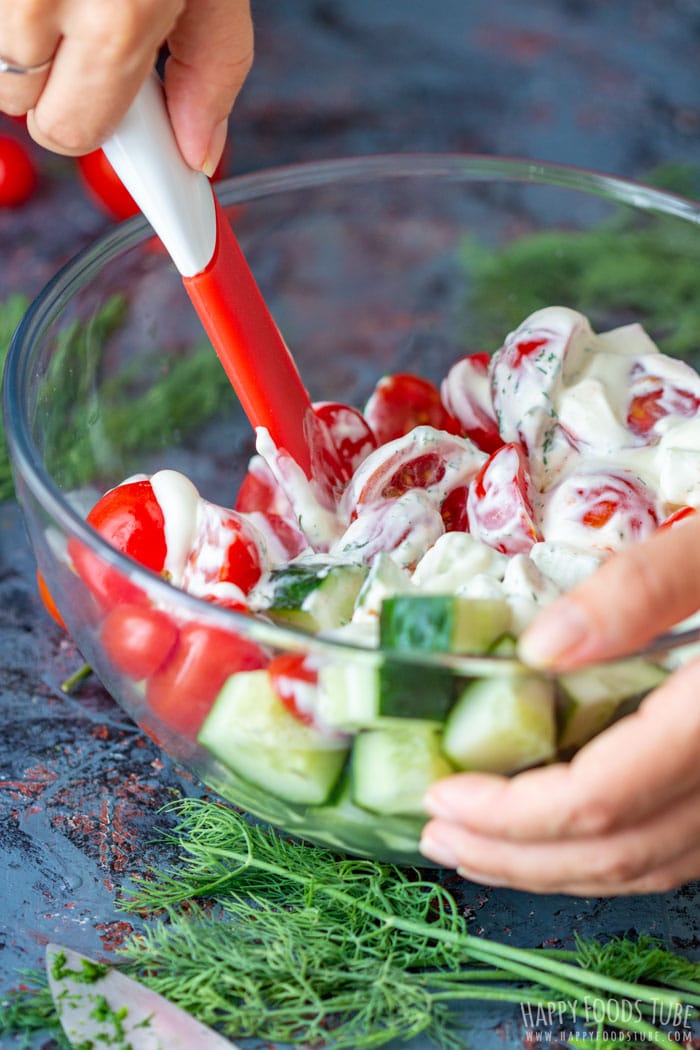 Tips for making creamy cucumber tomato salad
This salad can be made ahead or served right ahead. When you are planning on making the salad ahead, keep it in the fridge. Otherwise I recommend keeping all the ingredients in the fridge before the prep. That way this easy side dish will have the right temperature.
If you are not a fan of dill, try using chives or spring onion instead.
I like using cherry tomatoes but any variety will work well in this creamy cucumber tomato salad. Just make sure they are ripe.
Some cucumbers have a bitter skin. To avoid spoiling your salad, taste them first. If you find the skin bitter, simply peel it off.
If you don't have sour cream on hand, try using unsweetened Greek yogurt.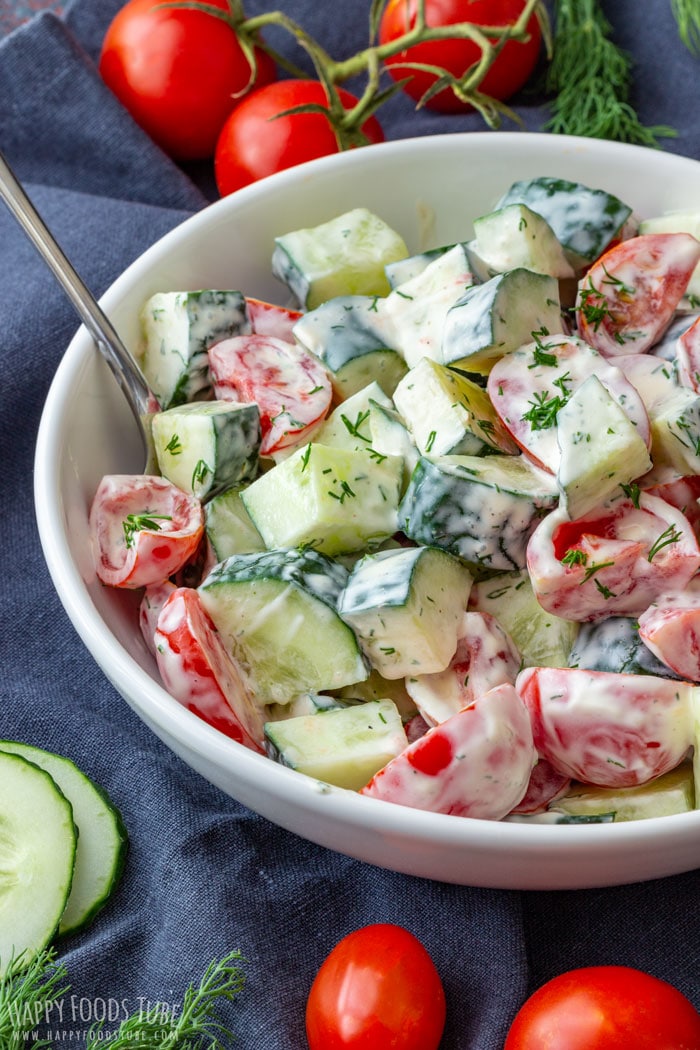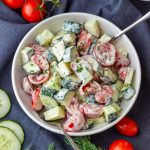 Creamy Cucumber Tomato Salad
Creamy cucumber tomato salad is the perfect side dish for outdoor entertaining. This refreshing salad only takes 5 minutes to make!Prep Time5 minsTotal Time5 mins Course: Salad, Side Dish Cuisine: American Keyword: Cucumber Tomato Salad, Summer Salad Recipe Servings: 4 Calories: 92 Author: Julia
Ingredients
13 ounces Cherry Tomatoes (380g)
1 pound Cucumbers (440g)
2-3 sprigs of Fresh Dill
4.5 ounces Sour Cream (130g)
1 tbsp Lemon Juice
1 tsp Salt
A pinch of Black Pepper
Instructions
Wash the tomatoes and cucumbers. Cut them into bite-size chunks and throw everything in a large bowl. Add finely chopped dill.
In a small bowl, combine the sour cream, lemon juice, salt and pepper and pour over the chopped veggies. Stir until all the vegetables are coated with the sour cream dressing.
Serve right away or keep in the fridge until ready to serve.
Notes
Dill can be omitted or substituted with chives, red onion or spring onion.
Tomatoes – use any tomatoes you like or have on hand. My preference are cherry tomatoes for their sweet taste.
Cucumbers – English cucumbers (the very long ones) or garden cucumbers or any that are available in your supermarket are ok to use. Taste a slice first and if it is ok, you can leave the skin on. If it tastes bitter, you will have to peel it.
Adjust the seasoning to your taste.
Nutrition FactsCreamy Cucumber Tomato SaladAmount Per ServingCalories 92Calories from Fat 54% Daily Value*Fat 6g9%Saturated Fat 3g19%Cholesterol 16mg5%Carbohydrates 7g2%Fiber 1g4%Sugar 4g4%Protein 2g4%Vitamin A 770IU15%Vitamin C 26.8mg32%Calcium 61mg6%Iron 0.9mg5%* Percent Daily Values are based on a 2000 calorie diet.** Happy Foods Tube is a participant in the Amazon Services LLC Associates Program, an affiliate advertising program designed to provide a means for sites to earn advertising fees by advertising and links to Amazon.com.