Pretty sure that this may become your new favorite way to eat that apple-a-day.
It tastes just like your grandmother's apple pie, yet it's made with healthy, whole ingredients. It's quick and easy to make in just 5 minutes, yet full of nutrients that will keep you going for hours. It tastes creamy and decadent and sweet, yet it's naturally-sweetened (and also naturally gluten-free!). It's seasonal. It's affordable. It's kid-friendly.closeVolume 0%
It's something I am completely and totally hooked on right now.
It's an apple pie protein smoothie.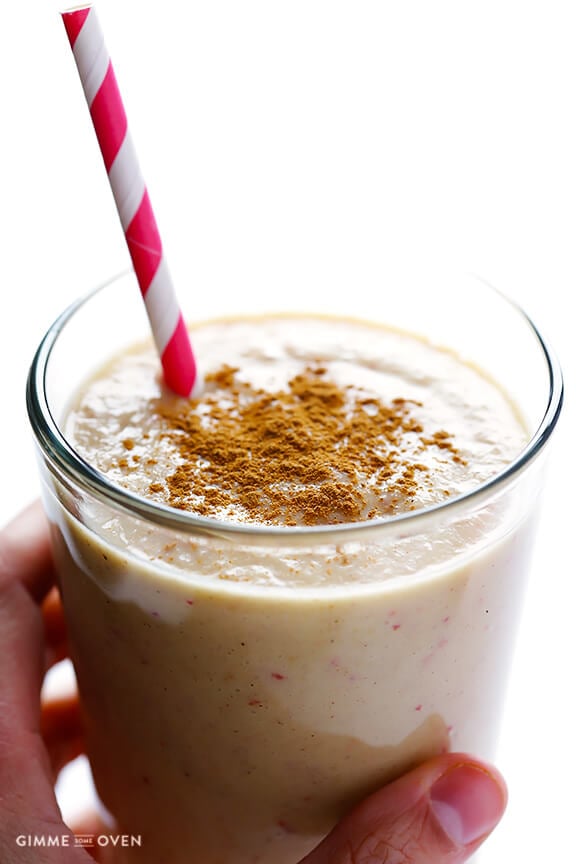 First, can we talk about apple pie for a minute? I mean, what's not to love about it?
Sweet, crisp, juicy apples…tossed with that perfect blend of cinnamon and spices…baked into a thick and decadently filling…enfolded by a rich, buttery crust?
Well, nix the crust and all of the unnecessary sugar, and it turns out that the ingredients at the heart of an apple pie actually make for a pretty stellar smoothie. And once you add in some almond milk for protein, and a little frozen banana to make it nice and thick, I promise that you won't even miss the crust.
Simply toss a few apples, some frozen banana slices, Greek yogurt, almond milk and classic apple pie spices into a blender.
And then within seconds, this comforting treat will be ready to go. It's sweet (but not too sweet), thick, creamy, perfectly spiced, and full of protein that will keep you going for hours. It's basically the best. And I'm pretty sure it would make grandma proud. 😉
So blend up one for yourself and enjoy!

APPLE PIE PROTEIN SMOOTHIE
prep time: 5 MINUTES
total time: 5 MINUTES
yield: 2 SERVINGS 1X
---
DESCRIPTION
This delicious apple pie smoothie tastes just like apple pie, yet it's made healthy with good-for-you ingredients. And it's naturally sweetened and gluten-free.
---
SCALE 1x2x3x
INGREDIENTS
2 large red apples (I used fuji), cored
1 frozen banana
1 cup ice
1 cup unsweetened almond milk
1/2 cup Greek yogurt
1 teaspoon ground cinnamon
pinch of ground nutmeg
pinch of ground ginger
tiny pinch of ground cloves
(optional: 1-2 pitted dates or 1-2 teaspoons honey, to sweeten if needed)
---
INSTRUCTIONS
Add all ingredients to a blender. Pulse until combined and smooth. Taste and add sweetener if needed, pulsing to combine.
Serve immediately. Sprinkle the top of each smoothie with a pinch of cinnamon if desired.
---
DID YOU MAKE THIS RECIPE?
Tag @GIMMESOMEOVEN on Instagram and hashtag it #GIMMESOMEOVEN