This past weekend I stumbled into LOFT with a friend. She loves LOFT, I thought okay. Hrm yeah I am not a fan, not sure why, but after walking around the store nothing appealed to me. I am going to be 50 this year and my friend told me that it is time to step up to women's labels. Please tell me that I have other options. I love JCP, NY&Co., Macy's and Old Navy. Got any suggestions?
I just wrote about LOFT this week, how it seems as though either it is younger or I am older. Either way, the clothes just don't feel right to me, even though I have many LOFT pieces in my closet from previous seasons that I still adore. As I often say, it's not you, it's the clothes.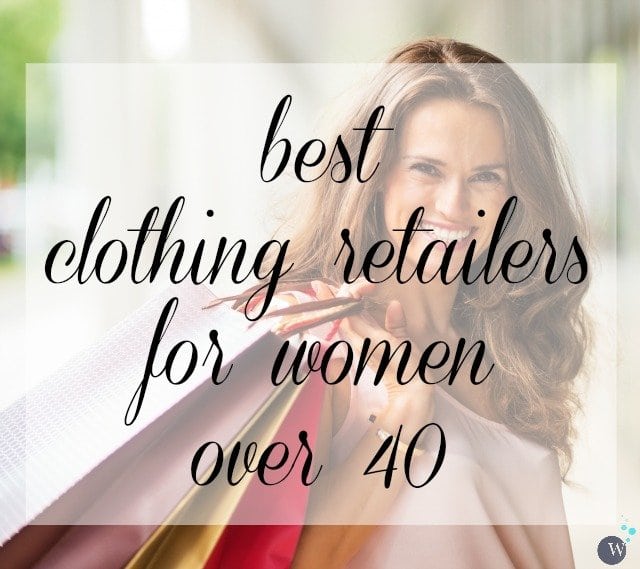 But yes, you do have other options! I'll share my favorites, but I also hope you readers will pipe up in the comments with the places you have the greatest success finding fab grown-up fashion.
I'm glad to see that you mentioned department stores like JC Penney and Macy's; I find that especially as you get older, shopping from department stores is a smart move because of the options. With stores like LOFT, you're stuck with one brand, one cut, one style concept. Department stores may have buyers that dictate the brands and styles, but you will still have more variety.
THE BEST CLOTHING RETAILERS FOR GROWN UP WOMEN:
One department store you didn't mention is Nordstrom. Many who aren't familiar with Nordstrom may discount it as being too expensive, however they have prices competitive with Macy's and I find they're more selective with brands and quality. Not only that, I find far more styles that are on trend and cool while not looking too young or trendy for grown-up women. Check out the brands Halogen and Caslon for wallet-friendly wardrobe staples, JAG and Kut from the Kloth for quality denim at a nice price, Vince Camuto and NIC + ZOE for on-trend pieces that also work at the office, Eliza J and Maggy London for great dresses. Nordstrom has fantastic in-store customer service and free alterations on some purchases. Online, they have free shipping and returns and price match other retailers.
When it comes to individual brands and boutiques, a lot of it comes down to personal style. Just as with LOFT, brands have a certain aesthetic, certain customer in mind when they create their collections. While your best friend may love skinny jeans, you may prefer a bootcut because it better flatters your figure and also goes better with the tops and shoes in your closet. The sale holds true with brands; what is one person's Holy Grail of fashion can be a mega fail for another. The list of retailers you provided has a variety of fashion but a base of simple versatile basics so I will try to focus on similar brands.
While many think of Lands' End for parkas and fleece, they are also a great destination for women's fashion. The quality is usually stellar, the prices reasonable for the construction and fabric, and they have amazing sales. On top of that, they have a liberal return policy and you can even return online purchases at Sears. I appreciate the extensive and honest customer reviews that also share the reviewer's age range (great for gauging whether such adoration is from a college kid or a retiree). Lands' End is my go-to for dresses (check out their ponte options which are flattering, forgiving, and usually washable) and sweaters (I have a Supima cardigan from them that is over a decade old and still looks brand new) but many have great success with their footwear and variety of pants.
While J. Crew can be extremely pricey (especially for the inconsistent quality), the J. Crew Factory store has become a favorite of mine for casual closet basics. Great plain and printed tees, reasonably priced jeans in on-trend silhouettes and washes, and unique pieces like patterned skirts and jackets can be found, and the prices are pretty great. In fact, J. Crew Factory has replaced Old Navy for my weekend style staples as the quality is better for just a fraction more money. J. Crew Factory has $5 flat-rate shipping (and free shipping over $100) and a reasonable return policy. They also have some customer reviews which help you determine which item may be right for you. I recommend signing up for their emails so you know when they have promotions (which are often) like 40% off the store.
I learned about Boden from another blogger (may have been Forever Amber) and it has remained for many years as one of my favorite destinations for that special something that completes my wardrobe. While I'll purchase basics at places like Lands' End and J. Crew Factory, Boden is where I find a top or dress that is a statement piece, and truly defines my style. Quirky prints, interesting details, and great quality makes Boden a place you should check out. The thing is, the quirkiness is sophisticated and looks better on grown up women than those right out of college. They often have lengths and tall options, plenty of customer reviews, and stellar customer service. Boden is also a great place for knit tops; they're one of my favorite places for Breton and other striped tees.
Garnet Hill is a place I have shopped from for decades. While I first found them when searching for the perfect bed linens, they are now a place I can trust for high-quality stylish yet not trendy fashion. Garnet Hill is not cheap, but their buyers are extremely picky and provide high quality and a very clean aesthetic. Garnet Hill has plenty of customer reviews and a ton of information not just about the items but the brands they are from so you can be a very educated consumer. I also like that there's usually several images from a variety of angles and occasionally on different models so you can get a better feel for what you are purchasing. Garnet Hill isn't my go-to because they charge for shipping, never have promotions, and as a blogger I won't get money sharing them because they don't participate in any affiliate or monetization programs but they do have great quality and provide a stellar shopping experience.
J.Jill is a company where I find a lot of great pieces… in person. I always have much more success in their stores than online. However, recently they seem to be improving their online photography and I can get a better feel for the true color, fit, and fabric from their website. When you're at the mall, consider stopping in J.Jill and try on a few things, you may be pleasantly surprised.
Talbots is one of my favorite shops, and it's another store where you need to actually try on the clothes and not base judgement on their online store. When I go online I am underwhelmed, but when I walk into their stores (or receive their catalogs) I fall in love with so many things. If you remember Talbots as the place for chinos with pineapples embroidered on them, the store is worth a visit this year. While the brand still has a bit of a preppy classic vibe, there's a lot of the line that fits a variety of personal styles. From quality knits to figure-flattering dresses, Talbots even has a revamped denim line I find extremely flattering and well made and a really stylish activewear collection. I also recommend signing up for Talbots emails as they often have sales and promotions. Usually I shop Talbots in person instead of online because they usually charge for shipping and the clothes just look far better in person than on their website.
White House | Black Market is another store I prefer in person. And even then, they're off and on. Their sizing is smaller so if you're cusp sized you may find pieces run narrow. However, they often have some really nice pieces and carry petites. Do not judge the store but the salespeople; while they often employ young girls the line often carries elegant and fun yet chic pieces that are great for creative offices, nights out, or And while the brand originally was two stores, one that had all white clothing and one that had only black, the store now has merged and carries a variety of colors and neutrals.Report this ad
AND NOW I WOULD LIKE TO HEAR FROM YOU READERS… WHERE ARE YOUR FAVORITE PLACES TO SHOP THAT ARE STYLISH, FLATTERING, AND APPROPRIATE FOR A GROWN UP WOMAN? I'D LOVE TO HEAR YOUR THOUGHTS ON THE BEST CLOTHING RETAILERS FOR GROWN WOMEN AND I BET THIS READER WOULD TOO!